It isn't any wonder that people flock to Colorado Springs for their next home. According to the U.S. News and World Report "Best Places to Live", Colorado Springs ranked second! And data from the U.S. Census shows that Colorado is currently the seventh fastest growing state in the country. With that in mind, you might be surprised to know that there are also numerous local, state, and national down payment programs available to Colorado home buyers.
Many people don't believe they can afford to buy a home, so they continue to throw away thousands of dollars in rent year after year. Sadly, these rental payments could be used to build equity on a home instead. One big reason for this is because many people are simply not aware of the first time home buyer Colorado grant programs that are available in virtually every part of the state. You can even use some of these incentives and programs if you already own a home or have owned one in the past.
The myth that feeds the assumption that homeownership is unattainable is the belief that you must have excellent credit and at least a 20 percent down payment. This informative article will explain why this is not so and introduce you to the most popular Colorado first-time homebuyer loan programs and down payment assistance grants available in the state.
1. Colorado Housing and Finance Authority (CHFA) Programs
This statewide program offers a 30-year, fixed rate mortgage that can come with either a 5 percent zero-interest second mortgage (silent second) or a 4 percent down payment grant. The silent second mortgage can help with closing costs and down payments. You must have a credit score of at least 620 and a minimum down payment of $1,000.
Another requirement is that you must take a homebuyer education course. You can find a schedule of upcoming courses here. The in-person courses are free to anyone, but the online version costs $99. In the course, you'll learn the steps of the buying process which includes creating a budget, learning about your credit score, looking for a lender, and the steps of the loan process.
2. US Department of Agriculture (USDA) Rural Development Loan Guarantee
First-time homebuyers and others can qualify for these loans as long as the home is in a designated rural area. The USDA home loan offers 100 percent financing, without a required down payment. This is a nationwide program (designated rural areas only) and usually requires a credit score of at least 640. Also, to be eligible, you must not have been previously suspended from other federal programs. Your real estate agent and lender can help you research whether or not the home's location is in a designated rural area.
3. El Paso County Turnkey Mortgage Program
This county specific program offers a 30-year mortgage loan with a down payment grant of 3 percent to 4 percent of the total loan amount. No repayment is needed and there is no requirement for first-time homeownership. This down payment grant program is only available in El Paso County, including the city of Colorado Springs. To qualify, you must have a minimum credit score of 640. Loans for manufactured housing are not permitted and refinance loans are unavailable. Read more here.
4. Metro Mortgage Assistance Plus Program
This down payment assistance program is not restricted to first-time home buyers and was designed to assist low and moderate-income households. It's possible that you can qualify for a grant to cover up to 4 percent of a 30-year, fixed rate loan. There are limited areas covered by this program, so you'll want to check with your real estate agent or lender to see if the location you wish to move to is covered. To qualify, you'll need a credit score of at least 640, a down payment of at least 0.5% (of total mortgage), and a debt-to-income ratio of 45 percent or less. The home must be a single-family detached home, duplex, townhome, or condominium.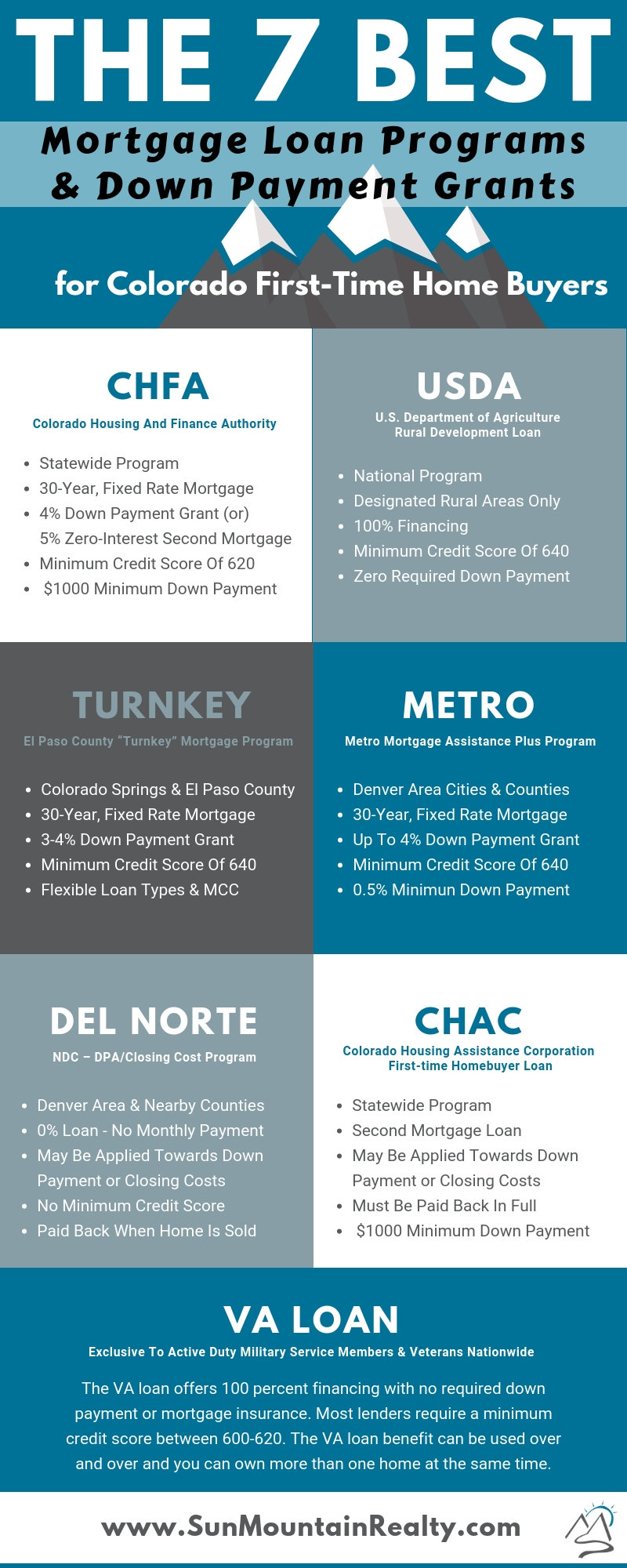 5. Del Norte Neighborhood Development Corporation
This program is for first-time buyers and offers down payment and closing cost assistance to eligible borrowers with a zero interest loan and no monthly payments. Those who participate in the program must occupy the home as their current residence and the total household income cannot exceed 80% of the area median income. This program applies to the Denver Metro area and a few surrounding counties, including El Paso county. The loan amount is determined by the borrowers individual needs and there is no minimum credit score requirement. A homebuyer class is required and the loan needs to be paid back whenever the property is sold, if the title is transferred or after 30 years.
6. Colorado Housing Assistance Corporation (CHAC) First-time Homebuyer Loan
This first-time homebuyers loan offers eligible buyers low-interest, flexible loan terms for a second mortgage to assist in down payment and closing costs statewide in Colorado. You must have a down payment of at least $1,000, or if in a disability program, $750. Your first lender must submit your application for CHAC assistance after you've completed a first-time homebuyer course. If you pay off the first mortgage, then your CHAC loan will be due in full.
7. VA Home Loan
This program is for first-time homebuyers and also for those who have already owned a home who are active duty military service members or veterans. The VA loan offers 100 percent financing without a down payment or the need for mortgage insurance. This is a nationwide loan program. Although the VA doesn't set a minimum credit score requirement, most lenders require a minimum score between 600-620. This fantastic benefit can be used more than once and you can own more than one home at the same time. For more details, read about VA Home Loans here.
Still Thinking About Renting?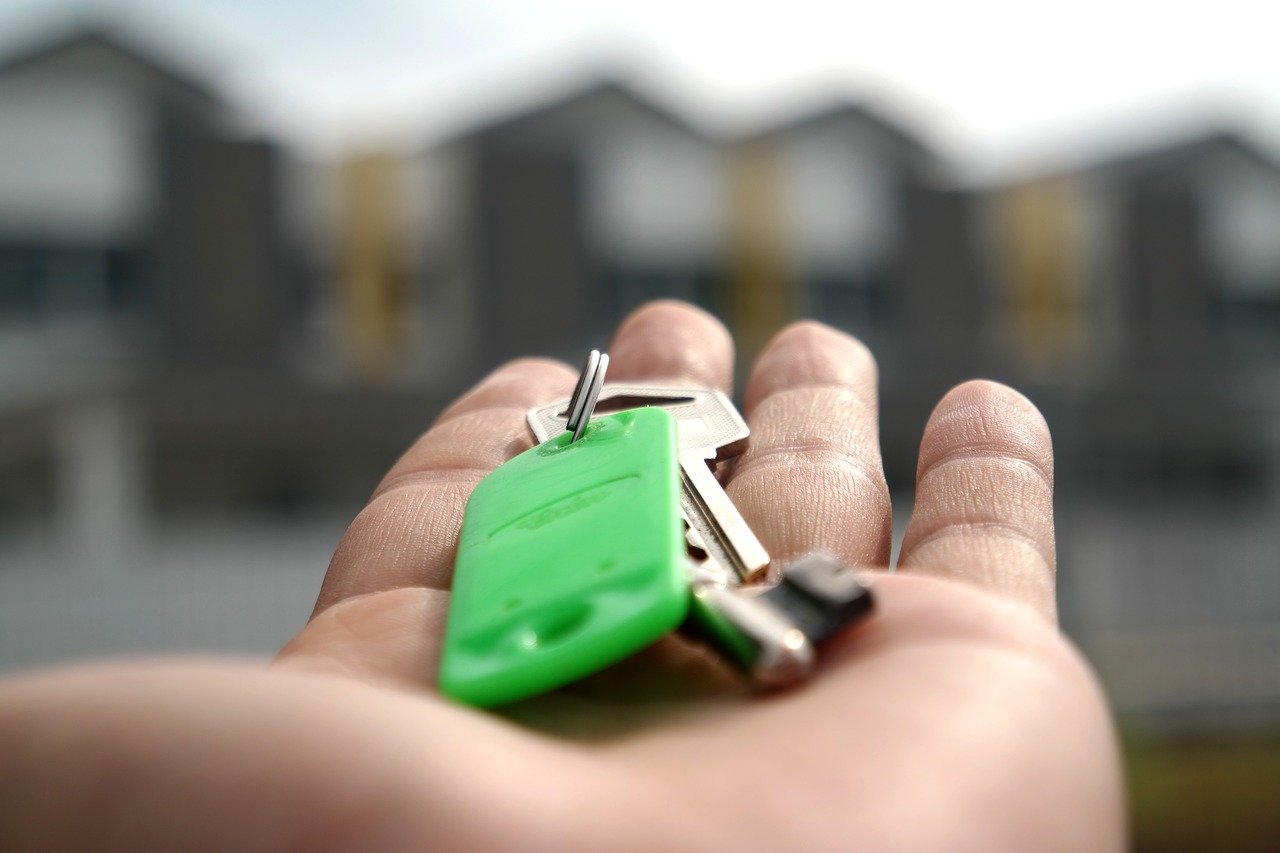 Once you've reviewed your home loan options, your dream of homeownership will get closer to becoming a reality. So many people don't bother to research their options, such as a Colorado first time home buyer grant, and unfortunately, they spend years renting. Now, that you know about these Colorado first time home buyer grant programs, you'll be able to speak knowingly about them with a trustworthy lender. I work with a team of reputable and outstanding mortgage lenders that I can share with you when you're ready to take the next step.
Remember, some banks will not share this information with you because they may not offer these financing options. It's a good idea to ask your realtor to recommend local lenders who do offer these mortgage assistance programs and down payment grants.