Zillow Research is predicting that the next recession to hit the United States will happen in the first quarter of 2020. But unlike the notorious Zestimate (the computer algorithm known for its "pin the tail on the donkey" valuations), the popular real estate website that makes its fortune by selling advertising back to the very same agents who provide the market information to Zillow in the first place has a pretty solid theory about an upcoming correction.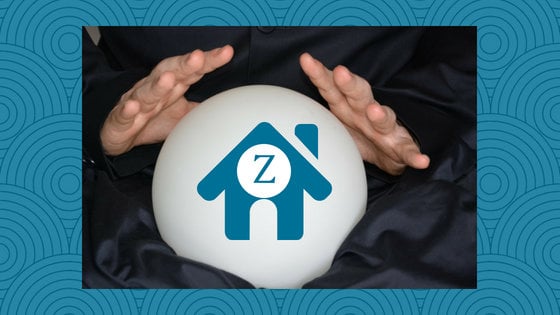 The majority of the real estate industry experts who were surveyed by Zillow say that monetary policy will be the cause of the 2020 recession. Many of the 99 panelists who were interviewed agree that the likelihood of tighter access to credit for less than perfect borrowers will contribute to the next dip in the market.
Sub-prime borrowers with lower credit scores and a minimum down payment are already having a tougher time competing against cash buyers or those who are able to put more money down and use conventional financing. Conventional loans can be much more appealing to a seller because they require a stronger borrower with a larger down payment and feature less restrictive underwriting guidelines compared to other popular loan programs, such as FHA. In multiple offer situations, it's not uncommon for cash or conventional financing to win the bid, even if other offers using FHA loan terms come in at a higher price.
With mortgage interest rates on the rise, many active buyers who are currently in the market could be eliminated from the playing field due to a higher monthly payment and overall affordability. Looking ahead, many experts believe that available credit could be even tougher to obtain for weaker borrowers, further tightening the noose when qualifying for a loan. The combination of these events could ultimately soften the hot housing markets that are creating bidding wars and driving double digit appreciation levels in many areas of the country.
Real Estate In Colorado Springs
But it's unlikely that our local Colorado Springs real estate market will experience any significant slowdown, let alone the Zombie Apocalypse or any other major real estate catastrophe. In 2008, we saw a bad combination of events that led to the perfect storm of doom – speculation, overbuilding and in particular, careless lending. Basically, anyone who had a first name and a pulse could buy a home (or 2 or 3).
Presently, we are experiencing the opposite of a traditional housing bubble with a shortage of inventory and overall tougher lending requirements. Locally, our biggest challenge is filling the void for single family homes priced under $300,000. Builders are also working hard to keep up with the increasing demand for homes priced between $300,000 and $500,000.
As many of the costs associated with building new homes are increasing, the market continues to struggle with the inability to make up the difference. Permits and tap fees are particularly expensive, and due to the characteristics of the local geology, soils mitigation can often require additional excavating, adding on to the overall growing expense of new home construction. Easily, 30-40% of total building costs can be spent before the foundation walls are even poured. The cost of raw land along with the required infrastructure for new developments is also on the rise, which will in turn be passed along to the consumer.
Today, it's almost impossible to find any new construction homes for sale in Colorado Springs priced under $300,000, and inventory levels in this price range should continue to experience high demand and strong appreciation, even if we see a soft landing on the national level as Zillow has predicted.
According to a recent article in The Gazette, El Paso County experienced the largest population growth over other Colorado counties in 2017, adding 12,526 people. Our estimated local population is now 699,323, trailing Denver County by just a few thousand. By 2020, El Paso County is expected to surpass Denver County as Colorado's largest. One big reason why people are choosing the Colorado Springs area is because home prices are still considerably less than in Denver. However, as we have been seeing in recent years, more demand = lower inventory and ultimately higher prices.
While some areas of the country may experience a soft landing due to an upcoming correction, our local market here in Colorado Springs should continue to thrive.
Read the full Zillow article here.