Despite the crippling COVID-19 pandemic, the Colorado Springs real estate market is healthy. Stay-at-home orders have reduced foot traffic, but buyer demand is still strong and the inventory of homes for sale in Colorado Springs remains low.
Although the momentum has slowed, we're still helping customers buy and sell homes in Colorado Springs! The only thing that has changed is the process. Safety measures may seem restrictive, but they are in place to help protect both buyers and sellers.
Is Real Estate an Essential Service?
Are real estate transactions (buying and selling) considered "essential" in Colorado amid the COVID-19 stay-at-home order? Yes! All real estate activities that are related to the transaction (including closings, appraisals, inspections, lending, title companies, and notaries) are considered essential services.
COVID-19 Real Estate Market Changes
So, you may be wondering, "If real estate is an essential service, does this mean it's still business as usual?"
Not quite… but we're adapting to these unprecedented changes. I, for one, am taking measures to protect my clients and make sure they are fully informed about the temporary guidelines throughout the process. I'm wearing my mask and asking others to do the same.
Your health and safety are my number one priority, and I'm continuing to serve my clients while adhering to all the requirements and regulations mandated in the state order.
No more open houses for now
In person showings are not considered "essential" and should be avoided
Limits on all other in-person activity
Following social distancing guidelines set forth by the CDC
Virtual Showings
Until our stay-at-home orders have been lifted, all in-person showings should be avoided. However, buyers will still be able to tour your home in a virtual setting and can submit an offer contingent upon seeing your home in person. Once an offer is accepted, the buyer can schedule an in-person walkthrough and arrange for their home inspections. Many military buyers who PCS to Colorado Springs are already buying homes this way, but this trend is quickly becoming the new normal for all buyers!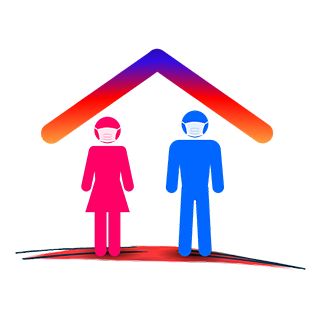 Masks at All Times
Wearing a mask not only protects me but also protects my clients. That is why I provide non-surgical masks, gloves, and shoe coverings for my clients during the home inspection and walkthrough. I will also be wearing a mask, gloves and shoe coverings when I come into your home for the listing appointment and photo shoot.
COVID-19 Restrictions and Real Estate Marketing
Many realtors are struggling right now when it comes to finding 3rd party marketing vendors such as photographers and home stagers. As these services are not considered "essential" under the current stay-at-home orders, most agents will have no other choice but to use their cell phone camera for the listing photos and hope for the best. However, because of our recent investment in the Matterport system along with the impressive Ricoh Theta 360 camera, your listing will feature the most advanced virtual tour technology, sharing the same platform that was typically only reserved to showcase the most exclusive luxury homes!
I also have the ability to capture stunning HDR photos of your home with a Nikon DSLR camera, featuring a 12-20mm wide angle lens and utilizing a tripod and a strobe. I also use Photoshop and Photomatix processing software to finalize the images. This won't be a surprise to anyone that knows me because photography has always been a passionate hobby of mine. But now I can use my hobby to fill in the marketing service gap.
COVID-19 Purchase Contract Addendum
In Colorado, we have a new COVID-19 addendum for the real estate contract that was drafted by the Colorado Bar Association. The purpose of this addendum is to protect all parties (buyers in particular) in case of any unforeseen delays due to the pandemic. This addendum was 'recommended' by the Colorado Association of Realtors, but I am choosing to require it for all of my buyer-client transactions.
Drive-Thru Closings
My preferred title company has also implemented "drive-through" closings. Documents will be emailed ahead of time for your review. On the day of your closing, simply drive to the designated area in the parking lot at the title company. Your closer or escrow officer will greet you in person and they will have you sign all documents from the comfort and safety of your automobile.
The New Normal
Although the way we do things has changed, the demand for buying or selling a home in Colorado Springs has not decreased. More people than ever want to move here! Whether you're buying or selling a home, I can help you through the process with all safety measures in place to protect us all and ensure that you receive the best possible customer experience.